Queer artists, performers and leftfield misfits in London all have one underground community in common: KAOS.
By Patrick Cash 
'KAOS was created as an alternative to the mainstream gay scenes, an expansive and inclusive enclave that embraced individualism, eccentricity, cultural anarchy, experimentation and creativity,' says the night's creator Lee Adams. If you thought the underground queer scene of experimentation and creativity had been consumed by the new Tory world order of equal marriage, you've never been to KAOS.
The off-shoot community coils and writhes alive beneath the surface of the modern, mainstream gay community in London; a glittering serpent hissing of otherness when glimpsed from the outside. But inside, it's a home for the many in London who have abodes but not homes; a family for the family-less; a place for foreigners and outsiders, for the queer. For eleven years, all have been welcomed into its belly.
'One reason why the parties are so fascinating is because of this crossover in terms of age, class, gender, sexuality,' continues Lee. 'It's very rare to find such a diverse spectrum of people in one social space. I think what unites all these disparate entities is their lack of a sense of belonging. The other thing that unites the crowd is an intense passion for music and the cathartic communion of the dancefloor.'
"Right from the start it was born out of a creative current. Most of our friends are artists, designers, musicians, performers, filmmakers…"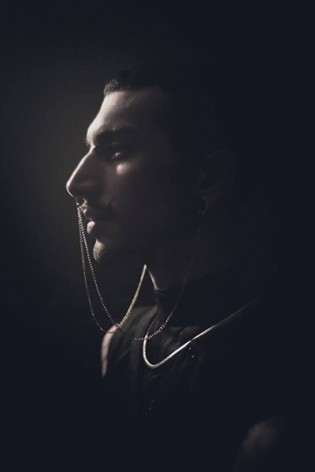 KAOS began at Madame Jojo's on Sunday afternoons, with Jay Cloth on the door in a long ash-blond wig, looped across his top lip to form a moustache, wearing a high Victorian lace collar and white contact lenses. 'The crowd was elaborately dressed up and the music fierce from the start,' says Lee. From its Soho beginnings, it travelled through Hackney, Spitalfields, and the 'golden days' of transgendered club Stunners, until its current incarnation at Electrowerkz in Islington.
Adams trained as a sculptor and 'spent a decade making immersive installations, experimental films and collaborating on large-scale outdoor theatre events with pyro-technicians, performers, musicians', explaining some of the emphasis on spectacle at KAOS. He met Bradley KAOS in Thailand 1999, and they discussed making a queer techno club. From a swirling of thoughts, KAOS was born.
'It's not just gay men, but also dykes, transmen, transwomen, and straight people,' Lee comments. 'I think KAOS has been so influential as an incubator of creativity because right from the start it was born out of a creative current. Most of our friends are artists, designers, musicians, performers, filmmakers… KAOS precipitated so much cross-pollination, it brings all these creatively engaged people together and then magic starts to happen.'
KAOS is a zeitgeist for queer fertility and self-expression. It stands at the precipice of wider knowledge. It's a chameleon, adapting and evolving through venues. But it is still the spirit of inclusion that roots at this brooding alternative community's heart.
'The crowd is still very diverse,' he concludes. 'Many of the people who are working in music, fashion, art and the club scene – performers, DJs, musicians – come to party with us, from twenty-somethings, to fifty-somethings. KAOS is a multiplicity, a multiverse of characters.'
• KAOS 11th Birthday is on Saturday 22nd November at Electrowerkz (7 Torrens Street, EC1V 1NQ), from 11pm-7am. Featuring Bronze Teeth (live set), Othon (DJ), Jose Macabra (live set), Chronozon (DJ), Karezza (DJ), and live visuals by Enjoykaos
• Meet THE CHILDREN OF KAOS here: www.qxmagazine.com/blog-event/the-children-of-kaos