By Dylan B Jones
One of the most memorable moments from Girls Aloud's "Call The Shots" (the best pop song ever made) is the sultrily slurred, hauntingly celestial line "so full of twilight, dreams that glitter". The band also chose that as the name of their autobiography, published in 2008, complete with a ghostwriter and book signing at Waterstones Piccadilly, at which Cheryl paired a zebra print dress with a neon pink belt. A truly iconic fashion moment, but that's another discussion for another browser window – DM us on Twitter.
Anyway, GLITTER is an adjective that suits Nadine Coyle down to the last flawless fingernail. She literally glitters, lighting up the wintery South London night around her as she chats happily over a cup of tea in the charmingly cluttered Clapham townhouse we've taken over for the evening. Her smile glitters, her skin glitters, her personality glitters. Her dreams probably glitter too! There's a gorgeous antique mirror on the table next to her, which has a gilt-gold frame, with carvings of oriental birds flitting over a river. But it pales in comparison next to Nadine.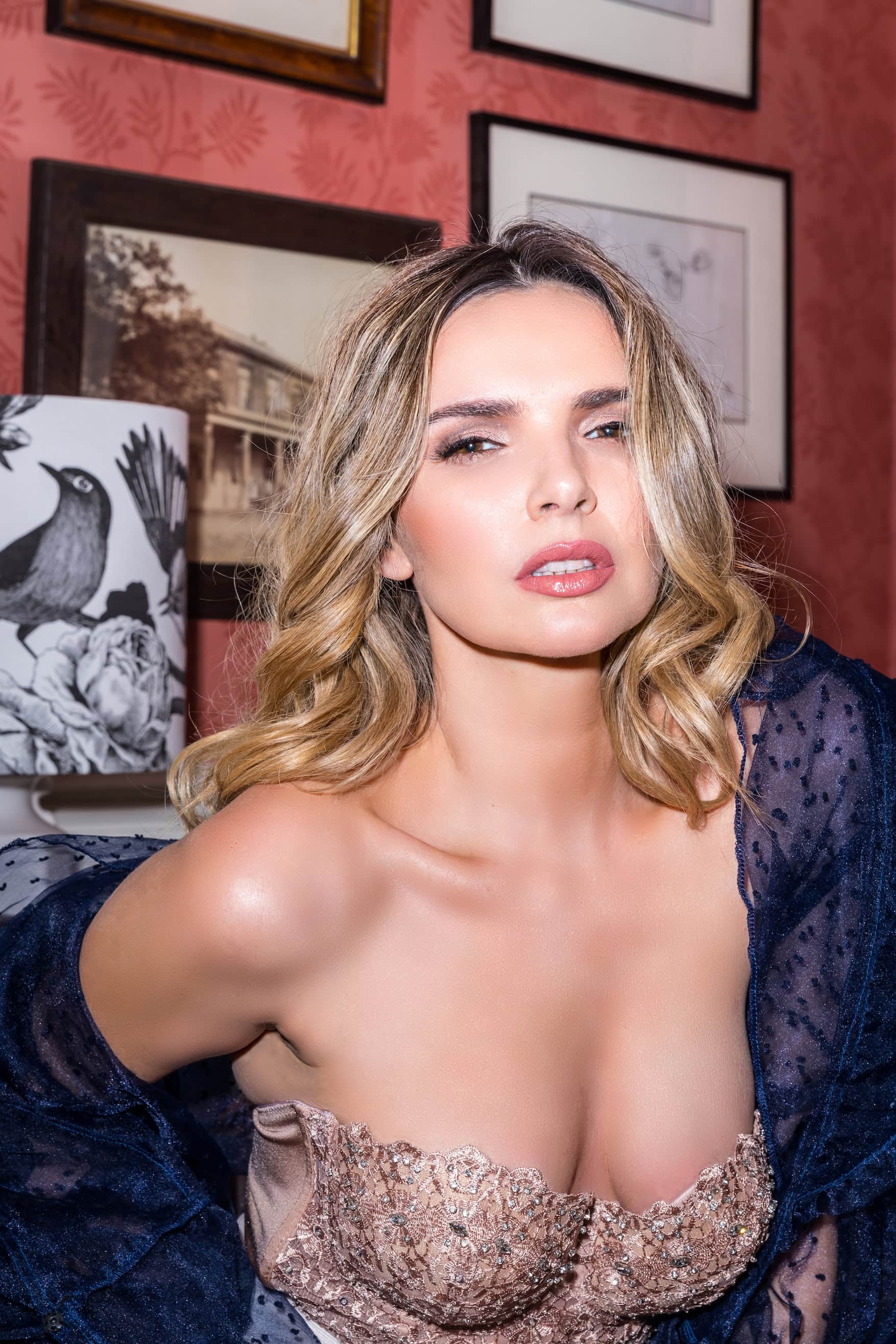 She was indisputably the most glam member of Girls Aloud. She opened a bar in California's Sunset Beach, called "Nadine Irish Mist" (glam!) she dated one of '00s Hollywood's most eligible bachelors, Jesse Metcalfe (glam!) and then split up with Jesse Metcalfe (GLAM!)
Last year she released iconic single "Go To Work", performing it on talk shows, radio stations and around six hundred prides. And she's kicking the pride circuit off again this year, heading to the Med for Maspalomas Pride on May 10th.
We chatted to her about the trials and tribulations of being a singing SENSATION, plus a film she did when she was 12, and Grindr emojis.
Hey Nadine! How are you?
I've been running around today! I had to cancel a meeting because Anaya my daughter was going to school this morning and she makes me do this thing where I have to be all the voices from Spongebob – so I have to be Spongebob, Patrick, Squidward AND Mr Crab.
Oh wow, that sounds like a lot.
It is!

So you and Girls Aloud…there must have been SO many surreal, crazy moments. What's the craziest that you can remember?
I can't really think of one isolated thing. I think because of the pace of working, there were no breaks at all, and no time to really understand what you were doing. You were just trying to sleep and then get ready for the next day. There was no time to even get nervous for a show, because there was a show every day. I think of it as a highly productive time. I was overproductive.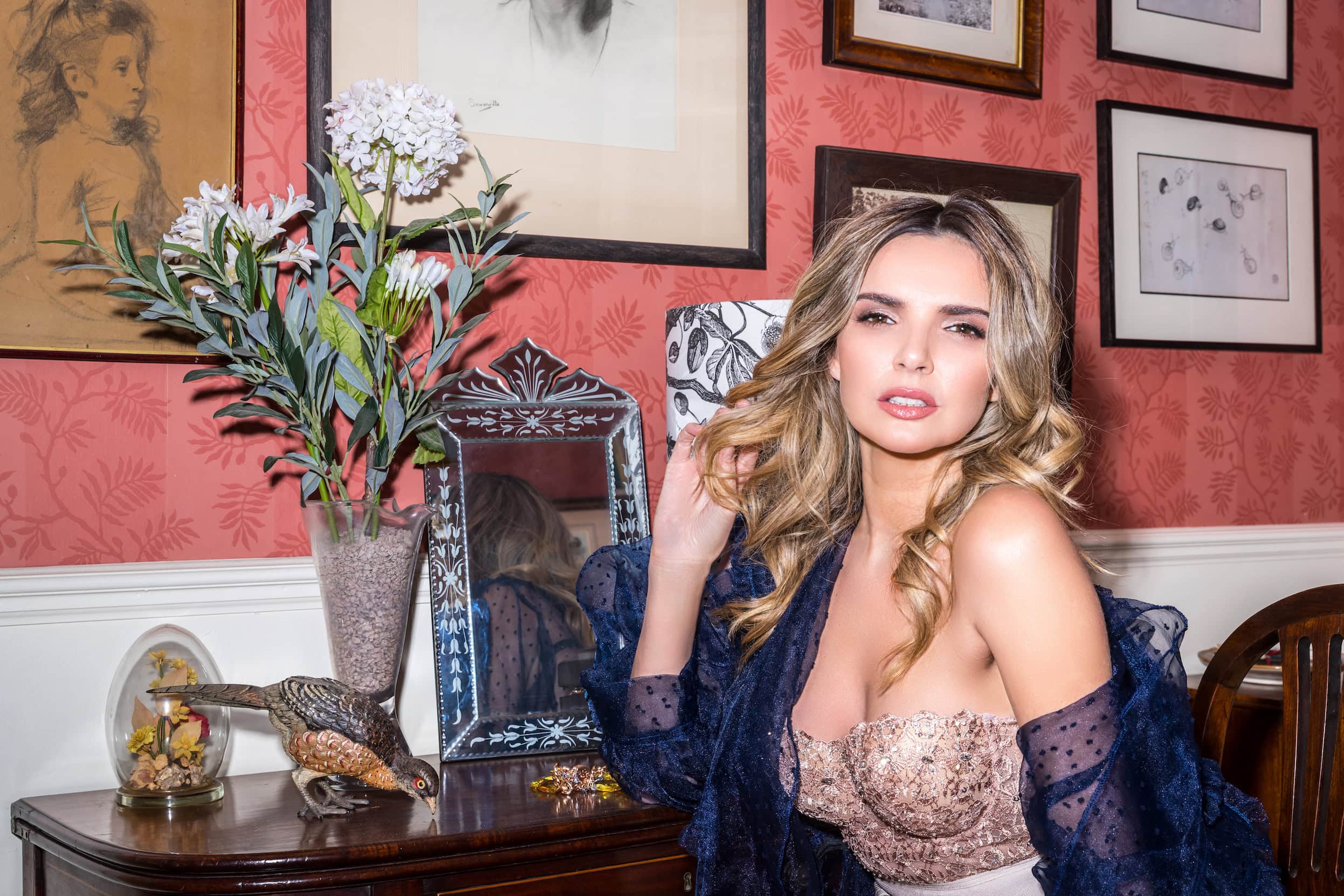 Are you a workaholic?
I would say no, actually. But there are times that I'm really highly productive – like I'm getting this show ready for the Clapham Grand next week, getting different mixes – getting stuff from the producers in LA, sorting out vocals from 2005. It's stuff that I want to do and it means more work, but I think it's gonna be worth it. I want it to be the best show ever – if I had my way, I'd be flying through the Clapham Grand!
So – Call The Shots! Such an amazing song! When you first heard it, did you know it was gonna be a big hit?
Yes! Honestly, yes. Call The Shots, Sexy No No No and I Can't Speak French – it was Bryan and I out in LA – and we'd done those songs within the first two or three days of recording. And we were like "this is good! Three amazing songs in three days!" We definitely knew.
I saw someone slowed down a clip of you from the Call The Shots music video and put YAAAS over it.
The internet can be a terrifying place sometimes.
Do you think the internet is good for music?
There's good points – it's easy to get access to so many artists who aren't on the radio, and that's a great thing. But then it's a shame because I remember going into HMV and there'd be an album there, and you could put the headphones on and listen to it. And it was such a fun thing, you'd go with your friends and call over "you have to hear this!" And there would be QUEUES of people to listen to some songs. It felt a lot more like a community.
I guess you still have a community of sorts, it's just not in person.
Yeah it's all online. A lot of things are changing online – all the dating apps, all these things that just put us in contact with people far away.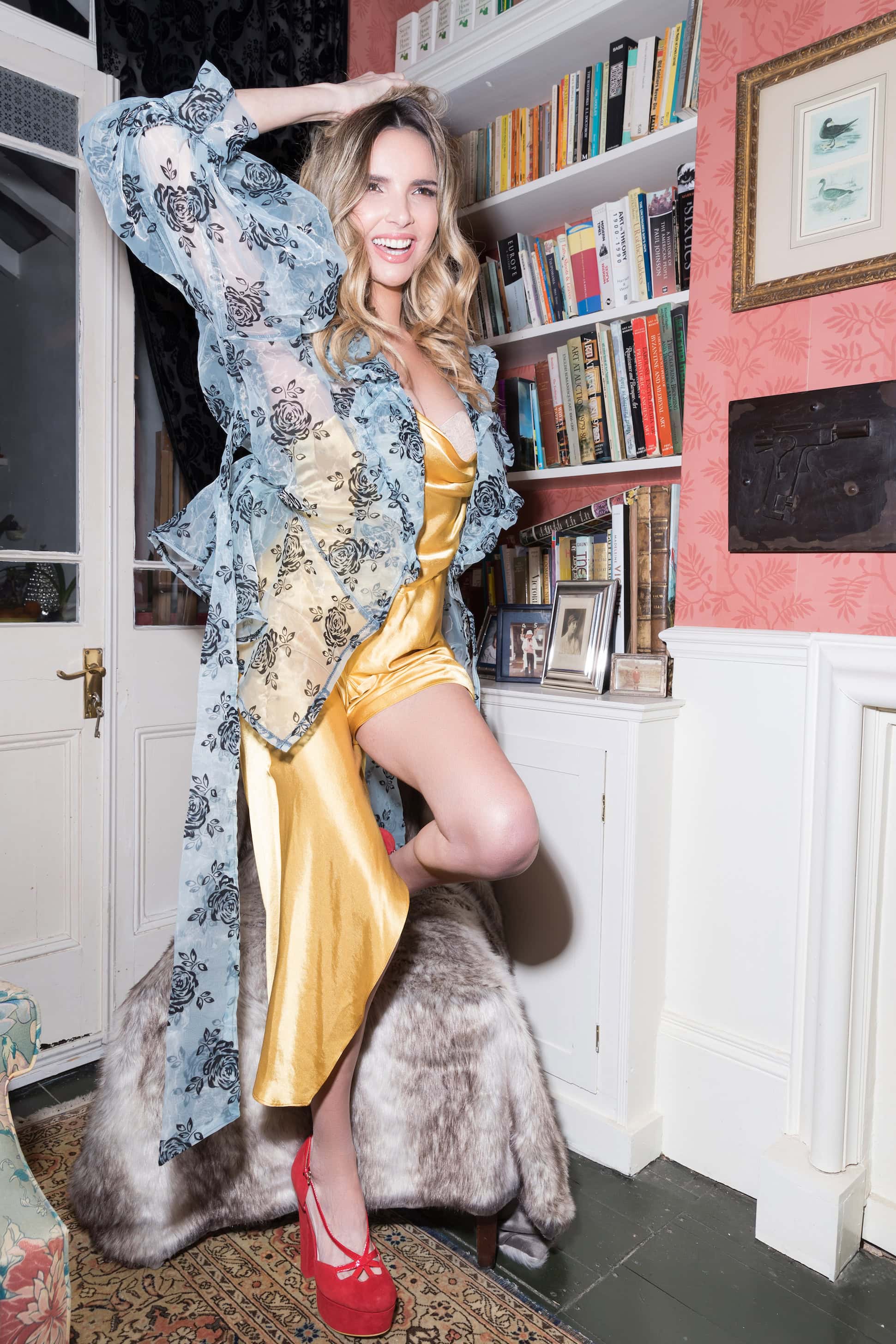 Speaking of dating apps – I'm guessing you've heard of Grindr.
Of course!

If you had it, what emojis would you have in your screenname?
The champagne bottle. The dancing lady in the red dress. And the shrugging lady.
That last one's quite coy.
Yeah like, "oh go on, let's give it a go."
What are you doing this year then?
More shows, more stuff! Hopefully getting some new music out VERY soon. I just go with it! Last summer I worked basically all summer. And then basically all winter.
So I was doing a deep dive into your Wikipedia page and saw that you were in a film called "Surfing With William" when you were twelve years old. What on earth was that?!
It was an audition in the newspaper that my mum had seen! And I was auditioning for the role of a teenage girl but I was only twelve, so wasn't REALLY a teenager. There were like a hundred girls there – my mum walked me straight to the front of the queue and found a sensible girl who worked on it to look after me and said "I'll be back in half hour." And I got the part! I played a girl who was obsessed with Prince William. I've never actually watched it.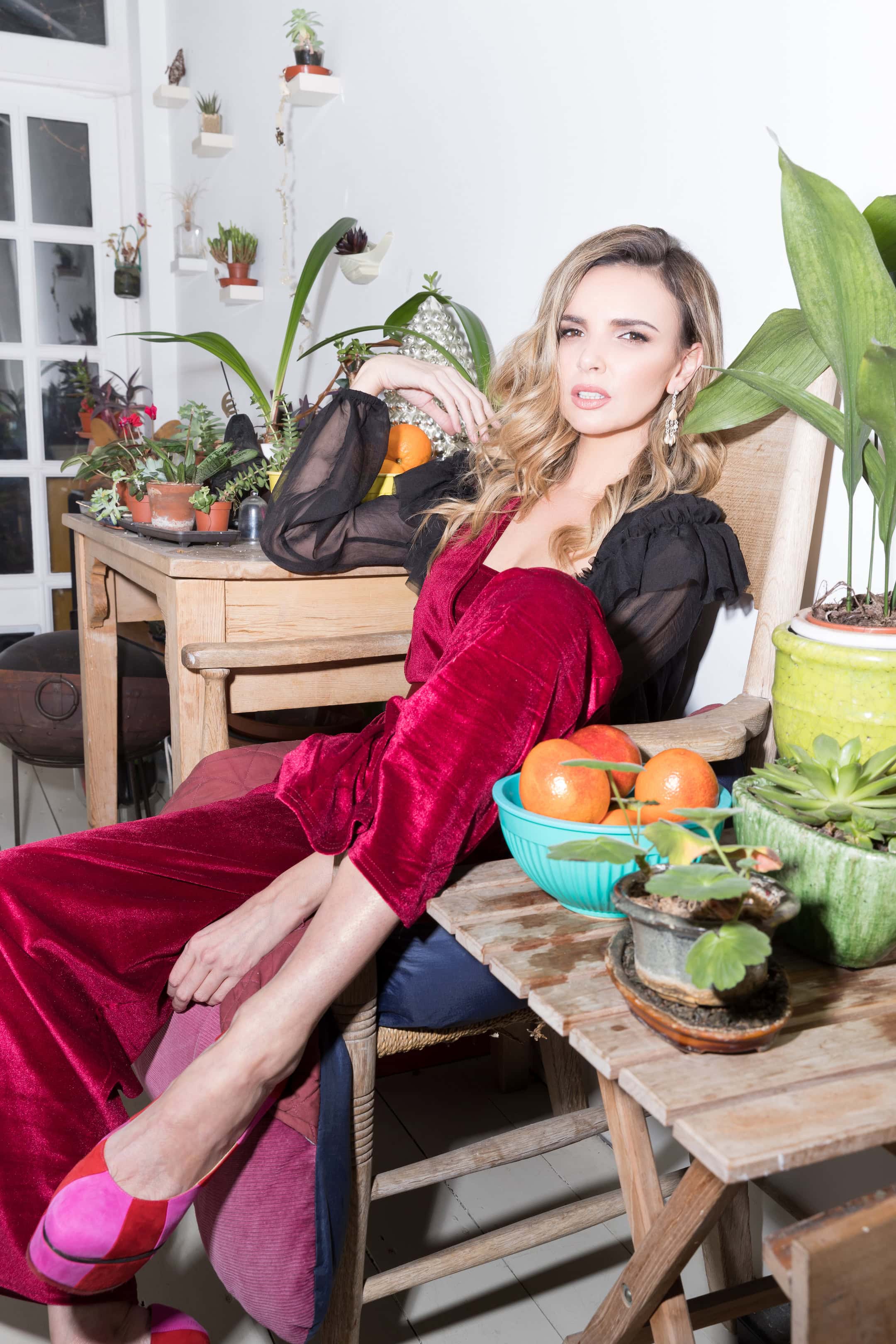 What do you think of modern mainstream music right now?
I think it's great! I think it's absolutely brilliant. I listen to the radio a lot more than I ever did before. There's this kid called Lewis Capaldi, I've been watching him for years and years – and you know when you can see something really start to come together for someone – all their hard work and all their songs. His streaming numbers are up and he's going up the charts. I know it's not me but I feel like it IS me and I'm like "amazing!" I had the same thing with Dua Lipa. I love what Ariana Grande's doing at the moment as well. ALMA as well. Rita Ora's great! She's been working hard for a long time. And it's really started to make sense for her in the last year or two.
SO…what would be your advice to young women starting out in the music industry?
Now is the time when our talent and hard work is finally being appreciated. And I think that because of that, people are getting more opportunities than they had before. If you're stepping into this industry, that is what the most important thing is. Know what it is you do, and try to do it as best as you possibly can. Don't try to be anyone else or do anything else. Stay strong. So many people are taken advantage of by people saying "oh if you change this or that you can have this job." No! You either get the job or you don't. Some people feel they need to compromise themselves to get what they want – you actually don't. You'll get much more respect standing strong!
READ MORE: