Fresh on the back her debut single's release last week, Australian singer/songwriter Esmé is quickly emerging to be a real presence on the music scene down under. We caught up with her before it hit the airwaves to talk inspiration, her time in Brooklyn and an undying love for Ella Fitzerald.
How would you describe your sound?
I try to evoke a sort of feeling or sensation with my music using mostly intimate sounds both vocally and production-wise, but the production really brings it into the electro-soul realm. My music has darker elements in it too with the heavy 808 kinda beats and swelling synth sounds. I think my music is characterised by contrasts between light and dark sounding elements and I guess that's reflected in the lyrics too.
Growing up, who were the artists that really influenced you?
I was really influenced by a certain type of voice, like Chet Baker and Ella Fitzgerald. The style of music I loved most was that of Antonio Carlos Jobim with more guitar-based vocal music. We had a lot of old music floating around growing up. Though I still listened to the music of my era too, I loved Ashanti.
Where would we find out on a Saturday night?
Ideally, somewhere with great food, music and wonderful friends or my sisters!
What would you say the music scene is like in Sydney?
There's definitely a really beautiful underground music scene here. Australia has some incredible musicians in contemporary jazz, soul, pop and some astounding vocalists too. But it can be a tricky scene to navigate since it is small and there are performance limitations as well in various ways. I think more and more people are rediscovering the beauty of art and music and seeking it out which is wonderful. Last Sunday night was an example of that, I supported an amazing band called Godtet and a singer called Ines, we sold almost 300 tickets I think and held this beautiful show in a warehouse in the inner west, full to the brim. It's pretty magical to be apart of something like that and to be drawing people out of their homes to share music with them.
Australia's art scenes are often left out of the global conversation. Why do you think that is?
I think really it's just because we are so far away! And maybe because Australia is still sort of defined by Footy and Kangaroos! Australian artists also tend to shy away from attention and struggle to put themselves on show. But there is truly so many amazing artists here, we also have, thankfully, rich cultural diversity in music and art, especially in the City and I think that will also become more evident to the rest of the world if artist's continue to be brave enough to pursue their talents!
You spent some time writing and recording in Brooklyn last year, what drew you there?
Well, I was sort of asked to go there by a producer Omar Dubios. He had heard some voice memos of my songs and really thought we could create something unique with them with the right producers…so I went! It was one of the most daring things I've ever done, I'm still processing it!
Who's making music right now that's inspiring you?
So many! James Blake, Billie Eilish, Moses Sumney, Solange, Rum.Gold, BANKS, Matt Corby and many more!
So this latest single 'Ella', what's it all about?
Ella is about listening to Ella Fitzgerald or any other jazz music when I was young and it helping me feel better. I would sit on the kitchen bench next to this portable Panasonic CD player and just listen to her when I was really sad. I'd even get up in the middle of the night and put it on super quietly and just listen. Ella was never intended to be released – it was discovered by Omar Dubious as an archived iPhone voice memo. It makes sense to know this because the lyrics are written to bluntly. They are exactly how I was feeling at the time I wrote this song.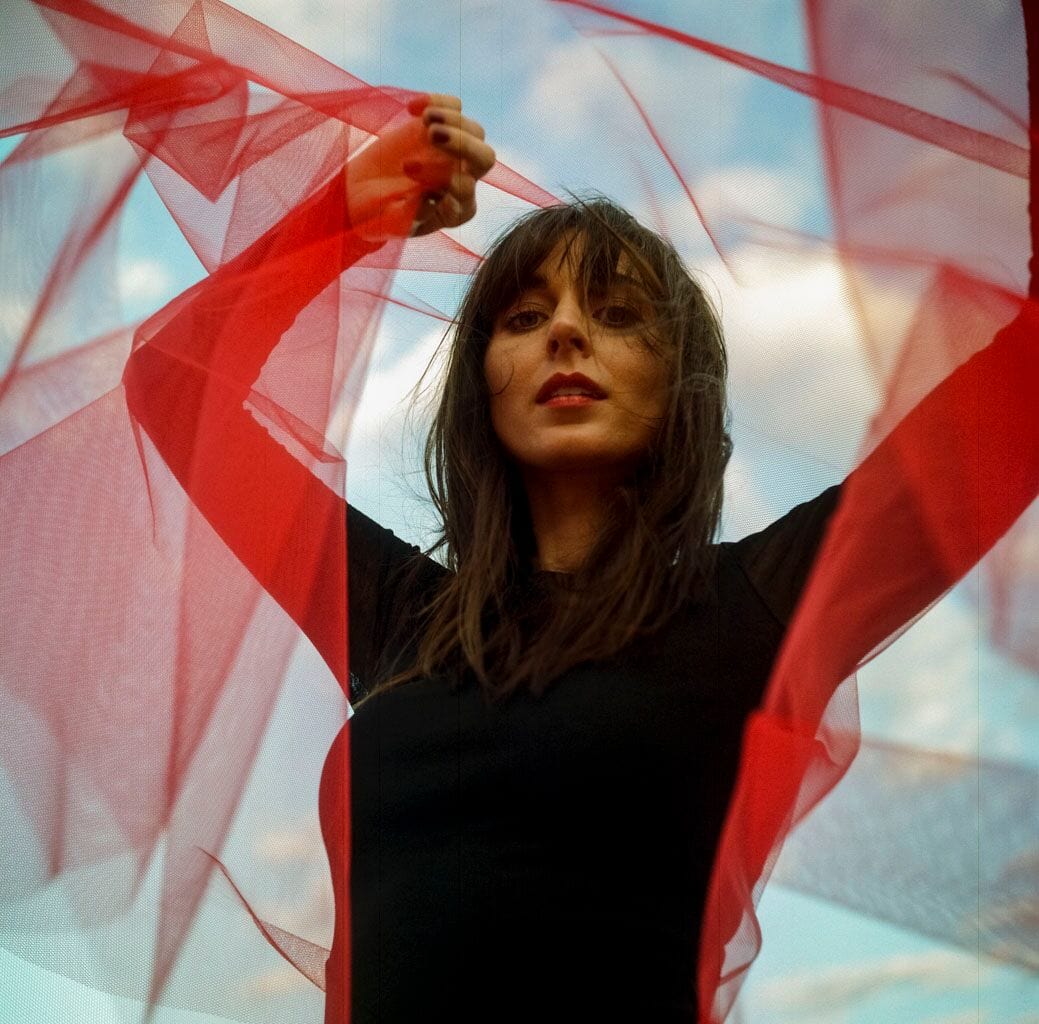 There's a distinct broken hip-hop influence, is rhythm important to your music?
I think rhythm is the most important thing in music – the hip hop inspired beat is there to drive the feeling of the song, I think this kind of beat really resonates with the human body and kind of lulls you into an easy listening frame of mind.
How are you feeling ahead of the release of the upcoming EP?
I'm nervous! But also very excited to debut this new sound – It feels like everything I love in music just fell into place for it.
What can we expect from it?
The EP will be full of subtle and intimate sounds and delicate vocals, contrasted with heavy beats, tingle sensation synths, lush vocal harmonies and even some orchestral moments. The music brings with it a new energy but still clings to my softer songwriting approach and feather-like vocals. There is one song in particular that defines the EP that features all of the above with a beautiful full swelling arranged strings and an anthem driving beat! But that's a surprise to come!
Listen to Ella now on Spotify: