What would you do if you felt like an outsider in your own community? If you were ridiculed by those who purport to be accepting of all? How do you think you'd feel if you weren't represented? If you never saw people like you in gay bars, on cabaret stages, and in nightclubs?
---
For years, this has been the reality for Wayne Allingham aka Sugar Cube, who has degenerative hemiplegia and learning difficulties, and many LGBTQ+ disabled people. In a bid to change the status quo Wayne has created Disabled, Queer and Here – an organisation that centres LGBTQ+ disabled performers and shines a light on the needs of disabled people.
This week Jason Reid found out more about the initiative and Wayne's experiences…
---
Why did you create Disabled, Queer and Here?
I created Disabled, Queer and Here to give a platform to disabled LGBTQ+ people; to give us more nights out – that are tailored to our needs – with friends, family and like-minded people. I want us to be more involved with the LGBTQ+ community.
How has it been going?
It's been a rocky road, but now it feels like the foundations are firmly in place. I want to increase awareness, inclusion and accessibility, and to work with LGBTQ+ venues. This should be common practice.
What are the main issues facing LGBTQ+ disabled people who want to go out on the scene?
It's hard to go out and be involved with the LGBTQ+ community as a disabled person because places and venues are not accessible. We can't just open the door on a whim and decide to go out; more often than not a great deal of planning has to go into it. Disabled people are not afforded the same nightlife opportunities. We've been overlooked for too long. When I go to LGBTQ+ places I rarely see other disabled people. I feel like I'm not represented and it's distressing. We say we're in this one big rainbow community, so we should all accept each other.
Do you feel accepted?
I do, but not all the time; and for a long time I didn't at all. I felt like I was looked upon differently. That makes you feel strange, knowing parts of your own community – which you love – don't accept you. The more it happened, the more I felt things needed to change.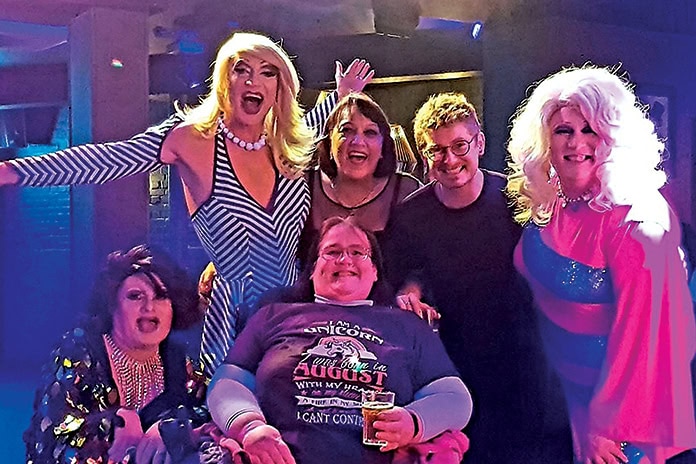 Why have LGBTQ+ disabled people been overlooked?
There is a severe lack of understanding about disabled people and their disabilities. Venues and the wider LGBTQ+ community simply do not understand our needs. Or if they do, they have consciously decided to close their eyes and ignore disabled people.
You've been on the scene for quite a few years, has this always been a concern?
I came on the gay scene in the early 80's, and in 2000 decided to leave it for a while. Honestly, back then I felt more welcome. I know that may sound strange, but everyone spoke to everyone. It's just the way it was. Having a conversation about a disability with a stranger for the first time is not easy but once that first awkward barrier is broken down it's fine.
What had changed and how did you feel when you returned to the scene?
I returned in 2010, so was away for the best part of a decade. The scene felt more cliquey and less friendly. I'd be on my own in a bar and people would stare and laugh with their friends. I felt uncomfortable and isolated, and knew that people didn't want to approach me because of my disability. Also, there were all these new cabaret competitions but no disabled performers. That's still the case today, and it has to change!
Was there a particular moment that sparked your desire to bring about change?
It was more a culmination of everything I'd been experiencing. It's been bubbling away for a while. Between 2010 and 2018 I felt very alone on the scene. Slowly but surely I began to realise that things don't have to be like this for disabled queer people. So I committed to doing something; and it's been welcomed with open arms by two venues so far: the RVT and Two Brewers. This should have been done a long time ago. Disabled people should be integrated and made to feel welcome in our community.
What can we expect at the upcoming variety show?
This variety show is going to be a great big celebration. We have our wonderful headliner Georgie Morrell who is a one-eyed comedian. Georgie breaks down barriers with her comedy by incorporating her disability. We also have Ebony Rose Dark who is a fantastic performer, a dancer by trade, and a VIP (visually impaired person). Jackie Hagan is a spoken word artist/comedian who happens to be an amputee, and she's performed all over including at the Royal Festival Hall. Then we have Wheelie Elvis who sings the songs of Elvis Presley, and performance art from Midgitte Bardot whose catchphrase is: 'Society tells me I'm disabled. I tell them I'm queer'.
You also have some great allies lined-up to perform.
I think it's very important for disabled people to have loyal allies because we should all have a connection and support each other. Having them onboard shows how disabled and non-disabled artists can work side by side. I'm very excited to have Mzz Kimberley, Rose Garden (our host), Shakona Fire and Marcus Morgan on the bill. They're all very talented performers.
Finally, what's your message to venues and bookers?
Let disabled people in. We are here, we exist, acknowledge us. Give disabled artists a chance to show that they are as good as anyone else. If you do this you will help to open people's eyes: customers in gay bars, audiences in cabaret venues, drag artists who think it's still okay to mock disabled people. Your actions will change attitudes, like a trickle effect. Disabled people deserve to be represented in the LGBTQ+ community.
Disabled, Queer and Here: The Variety Show is on Thursday 23rd January at the Royal Vauxhall Tavern, 372 Kennington Lane, London SE11 5HY Book tickets here
---
Stay in touch with QX Magazine on Twitter
Check us out on Instagram
QX Magazine App Updated: At iOS & Android Download FREE. Improved graphics. Convenient digital magazine experience. App and website integration.
---