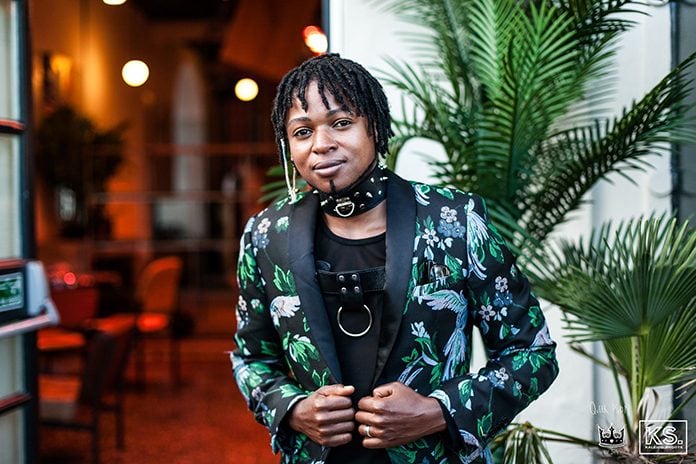 The cabaret sensation leading a new wave of performers
---
Variety is an integral part of cabaret; without a rich and diverse mix of acts and styles a scene will become hackneyed. Thankfully, our scene – across the UK – is alight with engrossing performance and art right now. One of the performers who is part of this exciting wave is Romeo De La Cruz, who has been performing primarily as a drag, boylesque and dance artist for the last six years. This week, Jason Reid gets to know more about Romeo…
---
Who is Romeo De La Cruz?
Romeo De La Cruz is a trans, non-binary, energetic, enigmatic humxn whose scintillating performances mash-up their craft of dance, drag and boylesque to produce the twisted concoction of their majestic fetish. A softie by nature but hardened by society. If you're lucky you might just experience the comedic side of De La Cruz
Describe your performance style in three words.
Extempore, majestic and personal.
What's your aesthetic?
My aesthetic is developed around my personal insecurities as an introverted drag performer; Romeo is a danceaholic who finds their voice through movement – incorporating sexual fetishism, comedy and political statements inspired by their offstage life.
Three artists who inspire you?
Jada Love paved the way for me in the burlesque world, and whilst we were dating I was somehow incorporated into her act and she never left my side – literally, because I married her. Performing with her helped me MASSIVELY in becoming the true me. Lolo Brow and Lilly SnatchDragon were the first womxn drag queens I saw perform and shared a stage with – they have a presence, humbleness and genuine soul that hasn't changed. These two beings taught me without knowing.
What's the biggest challenge you face as a drag king in 2019?
My biggest challenge is myself: stepping out my box to attempt opportunities I've always been hesitate to do – anxiety can do many things to a human.
What are you listening to?
The Color Show Playlist (YouTube).
Fave new performers right now?
Silver, Clay Taurus, Trindad & TooGayThough and Carrot. You need to see these performers in action!
What makes you happy?
My family, friends and their food. I may not eat a lot but I always take home extras. Music, poetry and dance also has an impact on my happiness, positivity and focused energy.
One piece of advice for new kings?
You are your only competition; compete with no one but YOURSELF as your art is your ownership.
The world would be a better place without?
All the 'phobias & 'isms. Like biphobia, homophobia, femmephobia, transphobia, xenophobia, ageism, colourism, genderism, racism, sexism and more. I know we're all made of skin, blood, muscles and bones but we can be too focused on the outside, people need to look a little deeper.
If you could only read one book, watch one movie and listen to one album for the rest of your days; what would you choose?
Book – The Black Dancing Body: A Geography from Coon to Cool by Brenda Dixon Gottschild.
Movie – The Color Purple.
Album – The Divine Feminine by Mac Miller.
What haven't you done yet that you'd really like to do?
Perform aboard and have my own merchandise. One day… I hope. Can't say when but I'm putting it out there in the universe.
What do you like to see when you go to a cabaret show as a punter?
Diverse cultures; variety of talent/arts; venues and events that don't tolerate 'phobias/'isms; gender neutral toilets; all different bodies and abilities represented.
Tell us something about yourself that not many people know.
I'm a medical marijuana supporter. This came after years of research and seeing the benefits – physically and mentally – through close ones. I can't ignore the visible evidence worldwide that shows more positive effects than negative for human life.
Romeo De La Cruz will be performing at The Apothecary Cabaret, The Albany, 240 Great Portland Street, London W1W 5QU on Friday 15 March.