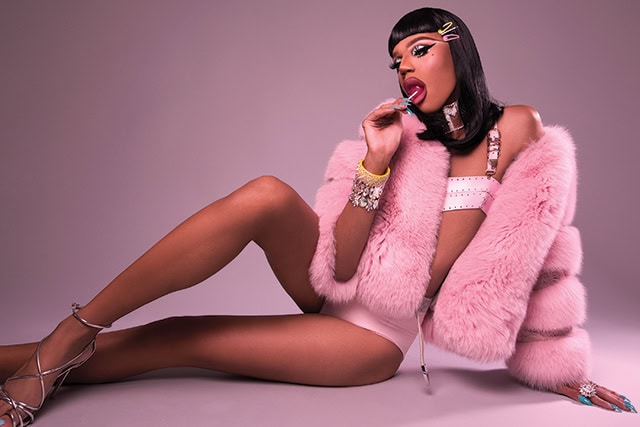 Text by Ifan Llewelyn
Photos by Martin Zee
The Drag Race star talks talons, tantrums and tiaras.
---
She's all leg and no dairy. Legendary! Since strutting onto the international stage that is RuPaul's Drag Race back in 2016, Naomi Smalls has become one of the best-known and most-admired drag queens out there.
Whether she's turning lurks or lip-syncing for the gods, she always brings a distinct high-fashion flare to all her endeavours. In returning to Drag Race for All Stars, she was once again able to flaunt her wares to her adoring fans worldwide, sending gasps across the globe when she eliminated the season's frontrunner Manila Luzon.
This Instagram darling, along with a few of her fellow Ru girls, is embarking on a global takeover with the Werq the World tour. Just before she takes to the stage at Wembley Arena (yes, THAT Wembley Arena) we decided throw on an ostrich-feather trimmed nightgown, recline on a chaise lounge, and dial her on our vintage rotary phone.
---
Well hello there Naomi, where are you RIGHT now and what are you up to?
Howdy y'all! I am currently in NYC at dance rehearsals for the upcoming Werq The World Tour, getting ready to scoot these legs all over Europe!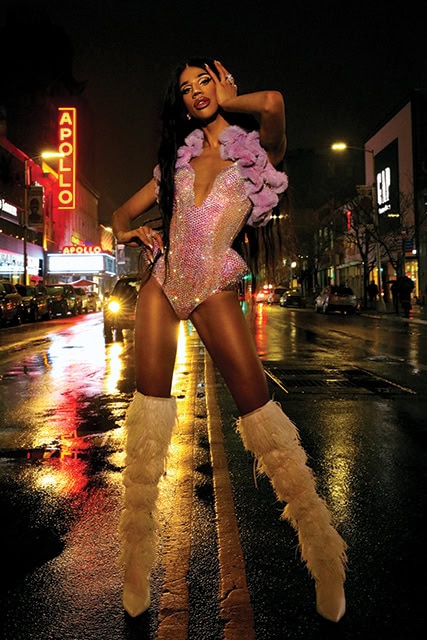 Remember to stretch! What are your must-haves for surviving life on the road?
Organization and skincare are my must-haves on the road. I'm a true Virgo perfectionist. Tours can become very hectic! When packing up at the end of every night, things must go back in the proper place to make the next show just as simple when getting ready. Labelled Ziplock bags and I have become best friends.
Any beauty tips?
Slapping a pound of makeup on every day can really take a toll on your face, especially whenshaving a beard every day that lurks underneath. A couple of years ago Kim Chi introduced me to the Soko Glam 10 step skin care routine, and it changed my life. I'm always trying to present the best version of myself to an audience and having healthy skin and confidence underneath the mug just makes the show that much better.
Give us an on-the-road horror story.
Getting stuck in the middle of the desert on the way to El Paso was pretty horrific. 9 exhausted drag queens having to wait on minivans to get to the next theatre, and then get ready in an hour. Any situation when I have to rush to get ready is just not the tea.
Where would you say is your favourite city to visit on tour?
Chicago! I had the privilege of living there for three years when I turned 22. The drag community and club scene really helped shape the queen that I've become today.
You're soon to be coming to London. Where do like to visit when you're in town?
I always enjoy performing at Heaven when I come to London – and love staying at The Library on St. Martins Lane!
Oh, FANCY! So tell us, are there any downsides to having the world's longest legs?
Finding pants in high school was a little challenging. I used to have to suffer from cold ankle. It wasn't until I found ASOS.com skinny high-waisted 26 waist by 38 inseam that I felt human. A human with warm ankles.
You sent gasps around the world with your All Stars 4 elimination of Manila. Were you on edge for that episode to come out?
I enjoyed watching myself every single week of my favourite competition.
As did we, darling. Who's really impressing you on Season 11 of Drag Race?
I'm really enjoying Yvie Oddly. It's refreshing to see someone enter the competition with their own concepts and designs. The show has blown up so much that everyone seems to come in with the most expensive wigs and custom looks. Oddly is definitely more punk rock with her approach. I love that.
Rumour has it they've begun filming UK Drag Race. Who's a British celebrity you'd love to see done on Snatch Game?
The Cock Destroyers!
YES! So it really feels like a lot in life ISN'T fair right now. How can we stay positive?
Shoulder back, hips forward. Pose.
Give us the low down on how you put together a look. What comes first?
Lately, when creating a look I like to feel the song. When I first started drag I would always plan the look and hustle to try and find a song that matches. But now that I really enjoy performing and being on stage, I like to be as confident with the performance as I know I'll feel with the look. I've recently enjoyed going back to the Dior runways I gagged over in middle school. Mid 2000s John Galliano for Dior will forever be my favourite time in fashion.
Shag, marry, kill – Violet Chachki, Aquaria and Kim Chi. GO!
Marry Kim, I know we'd have a fun marriage. Shag Aquaria, I've enjoyed boys who are smaller than me. Kill Violet, she deserves at least a slap in the face. She'd probably like it.
You've been documenting your world domination with your Small's World series. Was it interesting watching all of that back?
As much as I love being part of the RuPaul's Drag Race legacy, Smalls World really shows the person that I am and like to present to the world. My YouTube docu-series with Todd Diederich and CameronTraxxx helped me fall back in love with drag and inspired me to create more content for my fans. What I love about Smalls World is that it inspires watchers to go after their dreams, Smalls World follows me doing just that.
Who's a non-Drag Race queen everyone should know about?
I fell in love with Imp Kid (@imp_kid) when I first started visiting Chicago, and I've really enjoyed watching them blossom into the artist they are today.
Your single 'Pose' has topped over a million views on YouTube. Do we have any new music to look forward to?
Pose was a project that I worked on specifically for all stars. Through Pose I realized how fun it is to transport your audience to a world that I got to create through music, visuals, and styling. Definitely would love to explore more of the music/video/art directing world.
The Werq the World tour is touring the UK from 3rd – 19th of May.
It's landing in London 11th May at The SSE Arena, Wembley.
For more info head over to VossEvents.com.