This europop sensation are back to cure us of our Brexit woes.
---
Following a six-year hiatus, euro-pop royalty Alphabeat are back to save our weary souls with a sugar-sweet helping of sunny, sanguine pop.
by Ifan Llewelyn
It was 2008. The housing bubble had burst, the country had been swept up into a recession and the drab, grey face of Gordon Brown was glumly staring down at you from the morning news as you prodded your bowl of soggy Cheerio's. An inquest into a conspiracy surrounding the death of Princess Diana was gripping the daily news and late February saw the country literally shaking as an earthquake hit Lincolnshire. Flicking through the airwaves of monotone newsreaders and morose acoustic crooning, you suddenly happen across something… positive. Something joyous. "Fascination".
From behind the dark cloud there burst a single ray of glittering sunshine. An upbeat pop track that shoved glitter down your cynical throat. "Fascination."
Your arms that you thought had grown stiff suddenly started swinging to the sound of "Fascination." Adele was "Chasing Pavements", Duffy was begging for "Mercy" and Basshunter was crazy "Now You're Gone", but Alphabeat? Alphabeat were simply living on "Fascination".
Eleven years later and we've slipped back into another hellish news cycle, stuck in the horrifying hellscape of a Brexit purgatory. It's safe to say that an Alphabeat comeback is not only long overdue but downright destined. We caught up with frontman and woman Stine and Anders SG, and guitarist Anders B to hear all about getting the band back together, and upcoming album Don't Know What's Cool Anymore.
---
So how are feeling now that you're back stepping into it?
Stine: Even though it's been two years since we started talking about coming back, we still feel really lucky that all six of us want to do it at the same time, and that we had the creative energy to make a full album together.
It was the songs that brought you back together, right?
Anders B: Yeah, that's the great part about it. We had such a long break that it wasn't obvious that we should do something. It was the music that almost demanded us to get back together. That's the power in this music. It makes a good foundation of the whole thing.
How was getting back together for that first jam session after six years apart?
Anders SG: In 2013, working on our last album, we spent so much time trying to make the perfect pop song. Spent a lot of time producing, working on computers. This was completely opposite. We sat down with an acoustic guitar and just felt right away, didn't we?
Stine: At the same time, it opened our eyes to how we can be Alphabeat in 2019. It felt natural from the very first step. We also insisted on only playing the new songs for the first couple of times the band were together in a rehearsal space, and that just gave a really good, fresh energy. We felt like we were starting all over again.
Anders B: It's like riding a bike or something. When these two guys start singing together, that's the sound of our band. I hadn't heard that sound for five years.
Anders SG: In that very simple setting, that's the sound of us.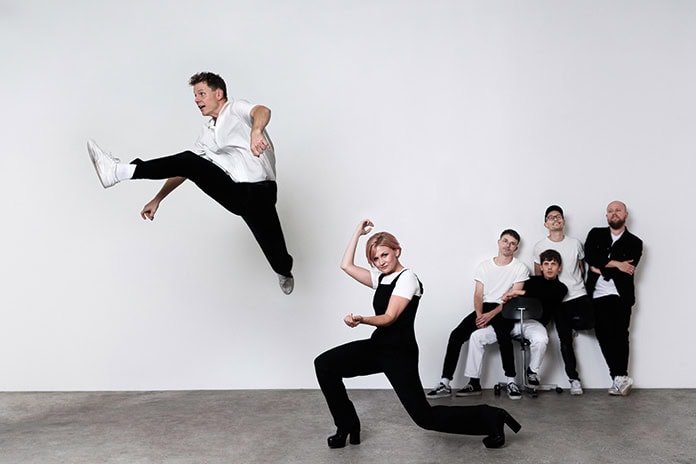 Six years is a long time to be apart. Did you stay in contact?
Stine: Some of us did, some of us didn't really. Some of the boys I probably saw three or maybe five times. It's quite crazy when you've toured together for 10 years and lived together, but we really just needed a breather from doing that, from spending all our time together. Making all our decisions based on what five other people think, you know? That makes wanting to get back together even more special. It's an active decision of saying "I want to spend time with you guys again, I've missed you."
How has it been adjusting what you were back them, to what Alphabeat could be now?
Anders B: That's the challenge, you know? But that's why we're making new music. We're doing new things with lyrics and with the music. It still feels like when we started out making music.
Stine: In many ways it feels like we've gone back to our roots, how the band started, writing songs the old fashioned way. But we were different people back when we made the first album. I was only 17, you know? Now is different because I'm wiser, older.
You did have a lot of success early on, how did you handle that?
Anders SG: It helps that there are six of us. We're really good friends.
Stine: Yes, if I had had all that success as a solo artist being 18/19 years old, I think it would have gone to my head and it would've changed me. Because we were 16 from a small town doing it together, and we've never been tapping each other on the back. It's always about what we can do better next time.
Anders SG: Instead of celebrating success, we've just been focusing on working hard. You reach a goal and then you're like, what now?
Anders B: Now we're back, we're able to cherish those special moments. Playing a big show or something. Yeah, that was really huge and maybe it won't happen again. Maybe it never will. Earlier on just get used to it and you don't appreciate that.
But it did get to a point where you needed a breather. Touring together must have been a little claustrophobic.
Stine: Especially with the girl who's as messy as I am. I had clothes lying around everywhere.
Anders SG: Creatively, it can get claustrophobic. This was the only thing that we've done since we were kids. It became tough. Everyone in the band needed to do something else. Try to do music outside of the group and learn new stuff. Hopefully, coming back they're bringing that into the group.
What's changed the most in those 6 years apart?
Anders SG: Handling conflict. It was one thing that we weren't good at when we were younger. Trying to avoid every conflict in a way wasn't healthy.
Stine: We wouldn't have talked about it eight years ago.
Pop music itself has matured a lot in the past few years. It's no longer considered "naff" and "cheesy" like it was in the mid-noughties.
Stine: That's true. I remember moving to London and talking a lot about pop being okay. We always had to defend our genre,
you know?
Anders B: You don't really have to do that anymore. It's not necessary. That's actually something we were talking a little bit about before we started out. Do we have to adjust to the way the music is now? Should we try to make our sound fit into what's going on now?
Stine: When we made "Shadows" we knew it didn't sound much like anything else on radio and made the decision that that was okay. We followed our guts. Having that break made us see much more clearly what we're good at.
Anders SG: That's why it felt so natural to call the album Don't Know What's Cool Anymore. That's just sums it up really.
Your music has always had a super positive, high-energy feel to it. In the world of Trump and Brexit, it could be exactly what we need.
Anders B: There isn't that much music that has that vibe at the moment.
Stine: In Denmark, we definitely had the feeling that there was not a band who had taken over doing that. We're making pop music that makes you smile. And that's it. So yeah, we definitely feel happy to deliver a smile.
Anders SG: Back when we started out in the UK, it was the recession. Everyone was suffering from the recession. Now we've got the Brexit. It's time to make people feel good again.
Stine: Yeah, it's not a bad feeling to make people feel good.
Alphabeat's new album Don't Know What's Cool Anymore is out on 1st November.
Read more related to Alphabeat interview: