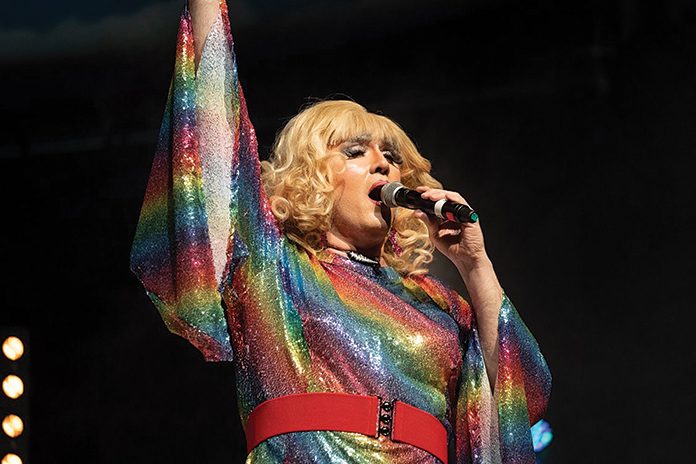 The cabaret star talks life, love and more!
---
Iechyd da! As if by sheer coincidence, hours before Wales' triumphant Six Nations win (that's Rugby btw – we like that one *eyes emoji) last weekend; proud paddy Jason Reid caught up with the seven foot Welsh warbler and Tom Jones stan Wilma Ballsdrop for a natter…
---
Hey Wilma! How the devil are you?
I'm very well darling; I'm currently back in Wales for a brief stay, watching the rugby and eating Welsh cakes in my kimono and turban.
For those who've never had the pleasure of meeting you; tell us who are you, what you do and where you come from? As Cilla used to say…
Well I was found in a cardboard box on Chippy Lane in Cardiff in 196… I mean, 1988. DNA tests proved that I'm the love child of Harry Secombe and Ruth Madoc, and I was conceived backstage during a variety show at Pwllheli Butlins. As a result I have Welsh showbiz inside me (and I don't mean that time I was fingered by Tom Jones). You can find me lurking around cabaret venues, where I sing and tell shit jokes. In my career I have been a hand model for Atrixo, the face of B&Q, and I was in Bananarama for six minutes in 1988.
Is there a Mr Ballsdrop?
Urgh, men. The problem is that God gave them a brain and a penis, but only enough blood to run one at a time. My late husband died in 'mysterious circumstances' on a skiing holiday. Some say the avalanche was started by someone singing, but I have an alibi as I was actually at Stringfellows at the time with OJ Simpson and Gerry McCann. The husband once said to me, "Sex is so much better on holiday". Well that wasn't a nice postcard to receive, I can tell you.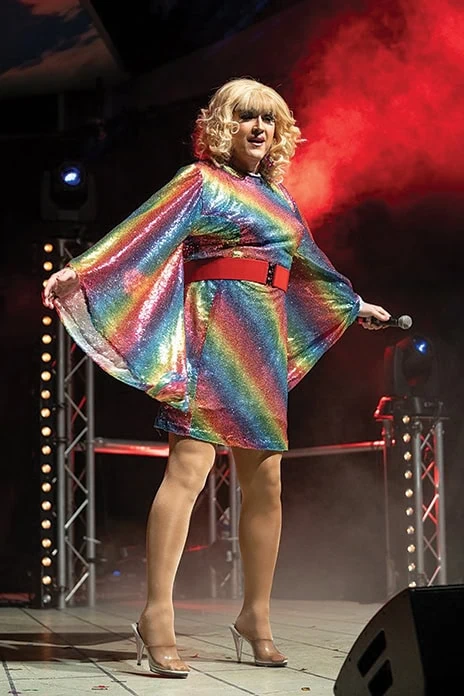 Any romance in your life now?
Let's just say I have a stockpile of Duracell double As.
What do you look for in a suitor?
A pulse is always good start.
Who's your celebrity crush?
Most of my fantasies centre around the Ryans (Gosling and Reynolds). At the same time. But not since the restraining order, obviously.
You're a very tall lady, aren't you? Is that an advantage or disadvantage in life?
Now it is true that in my heels and when I zhoosh my hair I hit seven foot tall. Most Welsh people are short, squat things (it's easier when you're down the mines you see), so when I visit my mother in Cardiff I spend my time bent double at the waist because the doors and ceilings are all munchkin-sized. Dating can be interesting; particularly with short men – though I find they're always so grateful. One said recently, "Your hair smells nice", and I said, "Thanks; that'll be the Femfresh".
What does an average day in the life of a Welsh diva consist of?
Well everything I know I learned from our Dame Shirl: start the day off with ten gin and tonics for breakfast, then pop out for some light shoplifting (you'd be surprised what you can get in the gusset of tights from Lidls). Under Welsh law we have to sing at least once a day, so I usually belt out the national anthem (Delilah by Tom Jones) until the neighbours start banging on the ceiling. My evenings are spent having drinking competitions with the girls; usually Charlotte Church and 'The Caths' – Zeta and Jenkins. The nights usually end with me getting fingered while eating a kebab in some dank alleyway.
Where can the adoring fans see you in the near future?
Well, darling, like the clap, I seem to be everywhere at the moment: my monthly appearance at the Admiral Duncan is on 6th April. Also my new monthly Ballsdropping Bingo in aid of Pride in London begins on 25th April at the Two Brewers, and May sees me at Swansea Pride, Dragovision at the RVT, and Love Me Tinder: a Cabaret with actresses Gemma Oaten and Samantha Renke. I need a lie down just thinking about it!
Wilma Ballsdrop will be performing at The Old Ship, 17 Barnes Street, Limehouse, London E14 7NW on Saturday 23rd March.