The QX Gay Guide to London is the most comprehensive gay guide with gay maps of London there is. QXMagazine.com is also the most informative website on gay London there is. QX prides itself on not sending people to venues that are closed or events that are no longer running!
This page was last updated October 2023.
---
QX London Gay Guides
QX Magazine
YOUR FREE GAY GUIDE TO LONDON
QXMagazine.com also has a host of extra information centres not available elsewhere. We've detailed below all the links on the site you need in order to navigate your way around Gay London successfully:
---
Detailed Gay Guide to What's On Every Night This Week In Gay London
Night-by-night listings – These are updated on a daily basis. You can read about what's on in gay London for every night of the week ahead while you're on the go: LGBTQ events listings pages.
---

Interactive Gay Map of London
Click the map to find today's updated map. The map not only shows where the LGBTQ+ gay clubs and bars are but also what is on and when. https://www.qxmagazine.com/events/map/
---
Guide to Saunas In Gay London
London has some of the best gay saunas in Europe. Check out our Sauna Guide.
---
Gay London Bars and Clubs
In our gay guide to London, we've divided the city up into areas to make it easier to navigate our beautiful and exciting metropolis. All guides are updated regularly, and there are lots of useful links to LGBT+ venue web and social pages for the very latest info. You can check out the quick guide that lists all the bars here or go to our party listings for gay clubs here:
LGBTQ+ Gay Theatre In London
London has the best LGBTQ+ themed theatre. Look for the latest LGBTQ+ played here.
Guide To Gay Shops In London
London has some great gay shops to spice up your life. Click here for that extra special something.
Gay Guide to London – EAST END of LONDON : Gay Clubs, Gay Bars, Gay Saunas, Gay Shops
The Gay East End of London is well served by the underground and hotels etc. are cheaper here. As London enjoyed post war prosperity and the prices of property in central London sky rocketed, relentlessly, what was once a run down, bombed out, East End became gentrified. It´s now where the cool, the trendy, and the edgy collide for a colourful cross section of characters to create one of the city's most edgy gay bar and club scenes!
Expand the map below and click on the pins to see what's where (but check the guide to see what's open). Click here for a detailed gay guide of the gay venues in East London
GAY MAP OF LONDON – EAST (including Dalston and Bethnal Green)
Please note that The Backstreet Bar is now permenently closed.
---
Gay Guide to London – CENTRAL LONDON (SOHO, WEST END) : Gay Clubs, Gay Bars, Gay Saunas, Gay Shops
Everybody has heard of the West End and at the heart of it is an area called Soho. Soho was once a fashionable area for aristocrats. It is now the very heart of tourist London because it also contains the central theatre district. Consequently it is more expensive than the East End. It is the biggest gay area of them all, featuring a diverse range of businesses from traditional gay pubs with grand drag dames delivering glittering cabaret every night to more modern gay bar/club concepts.
Expand the map below and click on the pins to see what's where. Click here for a detailed gay guide of the gay venues in Central London.
GAY MAP OF LONDON – CENTRAL (including West End and Soho)
Please note that New Bloomsbury Set and Flamingo Bar are closed, while the Apple Tree is closed due to renovations.
---
Gay Guide to London – SOUTH LONDON (Vauxhall and Clapham) : Gay Clubs, Gay Bars, Gay Saunas, Gay Shops
Head south to Vauxhall where the once industrial area has transformed itself into London's hub of activity – both day and nighttime. Late night after-hours gay clubs meet legendary establishments to create a vibrant scene. Plus, just a few tube stops away from Vauxhall is Clapham, a popular destination/mini gay village in its own right.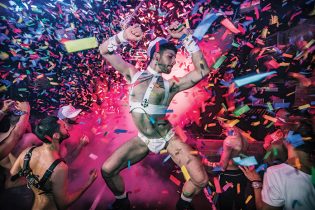 Expand the gay map of London below and click on the pins to see what's where. Click here for a detailed gay guide of the gay venues in South London.
GAY MAP OF LONDON – SOUTH (including Clapham and Vauxhall)
Please note that Chariots Vauxhall, The Chateau and Above The Stag are now closed.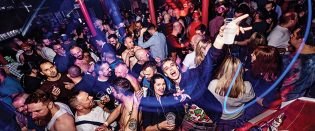 ---
Basic safety information for gay travellers to London
Any gay traveller to London will find this city worthy of the reputation of being one of the most diverse and tolerant cities in the world with an LGBTQ+ scene that is truly innovative and inspiring.
There are laws that protect us from discrimination. The age of consent is 16. Gay marriage came in to force in 2014. Few people will be bothered by public displays of gay affection in central London because the vast majority are supportive of gay equal rights.
However, that said, it is wise to be cautious on the streets at night when revellers may have consumed too much alcohol. Like any big city it is wise to be street smart and if you've had too much of anything – get a cab home!
---
Travelling around Gay London
The fact that there is so much traffic and that the roads always seem to be being dug up make London a difficult city to navigate above ground by any kind of vehicle.
If you´re not in a rush then the iconic buses are like a cheap site seeing tour. You can pay as you go.
The most efficient way to travel is by underground. Avoid travelling on the underground during rush hour because workers are travelling to and from work.
The iconic black cab can be found anywhere and they'll pull up at the side of the road. They are licensed and well informed, so you´re in safe hands. Short journeys stuck in traffic can end up being expensive, so best to use them when it´s not busy.