By Joe Holyoake
The gorgeous gay comedy imp talks revelations in Wahaca and performing in Pakistan
Mawaan Rizwan is one of those impish entertainers who flits between mediums with whimsy, bringing an inimitable energy and charm to whatever he turns his head to. His YouTube videos of public twerking and outré antics have had over 18 million views. His BBC3 documentary How Gay is Pakistan? garnered praise for its sensitive exploration of the country's underground LGBT+ culture. He also currently co-presents a radio show on BBC Asian Network with a feature called Kebabioke, in which he gets those behind the counter singing along to bhangra bangers. See, all over the place! Basically, he likes a bit of attention. That's a GOOD THING, btw. Just imagine how drab the world would be if it were populated only by introverts and wallflowers. Doesn't bear thinking about.
Anyway, he's currently got a brand new stand-up show called Juice, which he says is all about 'love, freedom and Missy Elliot'. After honing it as a support act on Simon Amstell's recent tour, he's taking it up to Edinburgh in August for the Fringe. We got him to spill the juice on the show as well as his clowning past and his mum's new Bollywood career!
Hey Mawaan! Where did the name for your new show come from?
It comes from this phrase my Mum always used to say: "when life gives you mangoes, make mango juice".
Like the Beyoncé Lemonade one?
Yeah just like that one actually, but I never questioned it! She clearly got the lemonade saying wrong, but I used to say it all the time growing up and my friends would say 'that's not how the saying goes'. I thought there were two separate meanings, one for mangoes and one for lemons. Clearly, there's not! The phrase and my mum come up quite a lot in the show. It's about a conversation I had with my mum in Wahaca about all the taboo things we couldn't talk about growing up. I told her about everything in my life she didn't want to talk about. The way she reacted to hearing all those things was totally unexpected and she ended up shocking me.
What prompted this revelatory conversation in Wahaca?
It was after she had come to see me do a show, during which I was doing this strip tease while covered in socks. I caught her face halfway through and thought 'oh god, this is every mum's dream!' It prompted me to think how we all go on in life generation after generation, but our parents don't really know who we are and we don't know who they are. I wanted to break years of ancestral patterns. I think queer people are given a very difficult but life-changing opportunity, where they either have to tell people who their authentic self is or hide it. Once you've done that, everything's up for grabs. So I thought, now you know about my sexuality, why don't you know about ketamine and my nipple piercing at the same time!
Did she tell you stuff you didn't expect as well?
Oh yes, but I can't really say anymore. You'll have to come to the show to find out!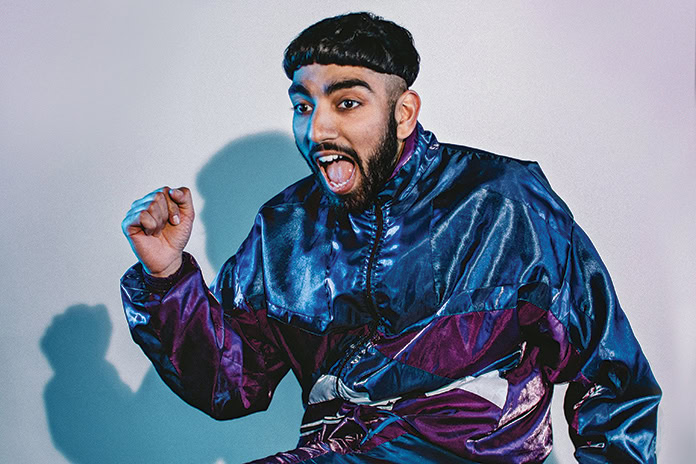 You're taking it up to Edinburgh in August, how many times have you done the Fringe now?
I've been going up for seven years, but this is my first solo show. I always find it amazing for the first week. You're in this creative bubble where you can totally express yourself and get inspired by watching other people. Then, by maybe two and a half weeks in, you sort of start losing the will to live! For many reasons, because you're putting yourself out there every day, which is quite a vulnerable thing to do. More than that, it's probably the accumulative hangover.
So do you think people who come to see you in the first week are seeing a different show to one in, say, the third week?
I dance a lot in my show and it's very physical, so energetically I always have to give it my all and that doesn't really differ. However, as the dates go on, I think you become less uptight. You free-flow more, you say things on the spot, you go off on weird tangents; you really start enjoying it more as you know the show inside out so you can just start layering it with fun.
You started out on YouTube. Was it an easy transition to start performing on stage?
No, it's difficult. On YouTube, people want to follow YOU the person, whereas say in Edinburgh, people want to see YOU the person, but also want to see you doing a craft and doing it well. On YouTube, I can make a video and even if I've spent weeks editing it, people are like 'oh, I love your hair!' Up on stage, if you do a bad show, people aren't going to compliment you in the same way.
Do people come and see you off the back of your YouTube videos?
Yeah, and they get something very different. I talk about YouTube a bit in the show, as my mum used to feature a lot in them and she was talent-scouted by Bollywood. After watching her in my videos, a producer got in touch and asked if she wanted to appear in an Indian TV series. I accidentally made her famous!
Was there an element of jealousy there?
Oh yeah massively! It's pretty messed up when your mum has more Twitter followers than you. I remember the first month she was on telly over there, she got over 100,000 Instagram followers. I worked years for that and I'm nowhere close!
Is she still acting now?
She's finished the show she's on and she's back in England now. She was in Mumbai all by herself and was a bit lonely, so wanted to spend time with family again. She's doing little bits here and in India, but won't do a daily TV show like that again as it just consumes your entire life. Their TV shows are often bigger than their films, because not everyone can afford to go to the movies, but every house in India has a TV and they follow it with a passion.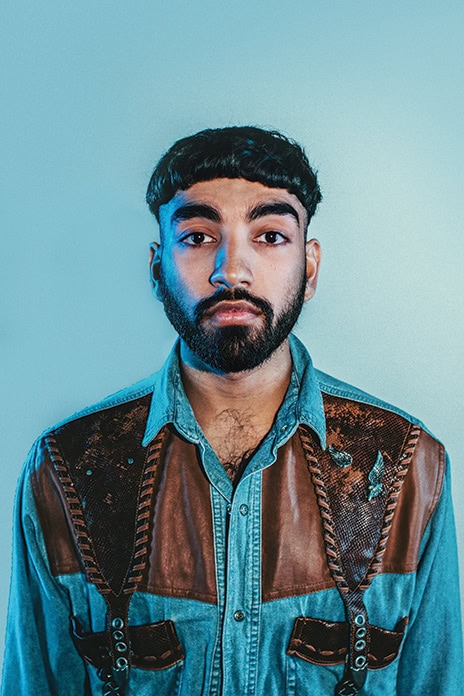 Has she always been supportive of your ventures, or did you have to convince her about making YouTube videos and being on stage?
I'm a first generation immigrant, so for my parents, education was really important. It was a case of survival. It also meant I assumed this narrative I always hear that immigrant parents want their children to be doctors or lawyers. But actually I was quite shocked when I told my mum about what I wanted to do. In fact, she outdid me. Instead of her standing in my way, she said "go for it, but let me go for it at the same time!" She's pursuing her creative venture finally at sixty and it's made me think "why shouldn't I be able to do what I want to do?"
Is the stuff your mum does quite comedic as well?
Yeah, so she played this character who is larger than life and very funny. When I started filming her for my YouTube videos, I was really surprised at how funny and charismatic she is. I didn't see as much of it when I was growing up as there was a lot of stress and confrontation about immigration and financial issues. With all the life stuff in the way, I didn't get to see how funny my parents are. I probably owe it all to her, but I don't really want to admit that. I think it was my really expensive clown training instead!
What did your clown training involve?
I saw a show by Dr Brown, who did this totally silent, non-verbal show in Edinburgh one year. I was so inspired and moved.
I wanted to find out where he had learnt it all. It turned out he went to this clown school in Paris run by Phillipe Gaulier. It really was what it sounds like: we had to put on red noses and make the rest of the class laugh, but with an added level of hardcore, abusive French teaching style. A bit like that film Whiplash, except rather than high-art music, it was trying to make people laugh.
Were you thankful for it all in the end, like the drummer is in the film?
That was exactly how I felt: thank you but I'm so damaged!
Can you do any of the more traditional clowny things? Any circus skills?
I've learnt mime and think I'm a pretty decent one, but I don't really use it. I mainly just slutdrop in my show, although that's a form of mime if you think about it. It's created this interesting hybrid in my act, because I'm a stand up and tell confessional stories, but the clowning has let me add this layer of mischievousness and physicality to these personal stories. I use it a lot in Juice, there's a handful of dance numbers.
What do you think about the state of queer comedy today?
Well I love all things comedy and I love all things queer, so when they come together, I get very excited. I love it when people incorporate that part of their identity into their work and make it a bit rebellious and subversive. You need a nice mix of entertaining and unexpected. Audiences want to hear things they don't know and want to have new discoveries. The stuff that I see that moves me the most finds that right mix. I love going to places like The Glory. I feel like a lot of drag artists have clown ingredients that they use in their acts.
You presented a documentary called How Gay is Pakistan? last year about the country's LGBT population. Have you ever performed there?
I haven't, but I would love to. I don't know how my sock strip tease bit would go down in the middle of Karachi, to be honest with you! I don't know much about the comedy scene there. I've got a couple of friends from the Mumbai comedy scene, so I'm sure there's one in Pakistan too. Last time I was there though, I was too engrossed with finding out about LGBT rights there, but if I were there longer, I would love to get on stage and to see where boundaries could be pushed.
You've already done quite a lot – radio, YouTube, TV – is there anything else you'd like to do after the show?
Have a holiday! Summer always seems to end early when you do Edinburgh, as it's always raining for that month. I've got quite a silly ambition, I would love to be in a music video. You know that Robyn video for Call Your Girlfriend? Something like that, like inside a big garage and I can just dance around. A slow-motion camera as well would be good, so I can look towards camera. Basically, I just want to keep combining my love of dancing like there's no tomorrow with comedy!
Mawaan Rizwan: Juice is at the Edinburgh Festival Fringe this August. Tickets available at www.edfringe.com